Keynote & Automator: Document Actions
The Document Actions are the heart of the Keynote action collection. They provide the tools necessary for creating, saving, opening, exporting, closing, and presenting Keynote documents. The following pages described in detail their various parameter options and usage for each Automator action in the Keynote actions collection.
The "New Presentation" Action
You'll probably begin many of your workflows with this action. It is often the first step in building and constructing powerful presentation documents. The following information explains the action's controls, behavior, and usage.
The Action Information
Input:
This action accepts no input
Output:
An AppleScript reference to the created document
Parameters:

User-settable parameters include:

Document theme (optional)

Document dimensions (optional)

Show/hide slide numbers

Playback properties: auto loop, auto play, auto restart

Bring Keynote to the front
The Action Interface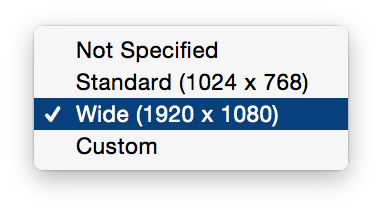 TIP: Following This Action in a Workflow
When this action is run, a new Keynote document is created. By default, the new document has one slide which is selected. If you want to set important parameters for the first slide, such as slide master or transition, simply follow the "New Presentation" action with one of the actions for manipulating slide properties, and the chosen adjustments will automatically be applied to just the first slide of the newly created presentation.
For example, in the workflow shown below, there's no need to use the "Get Specified Slide" action to identify the first slide of the newly created document, as the actions will assume that you want to manipulate the current slide of the created document. (⬇ see below )