Sections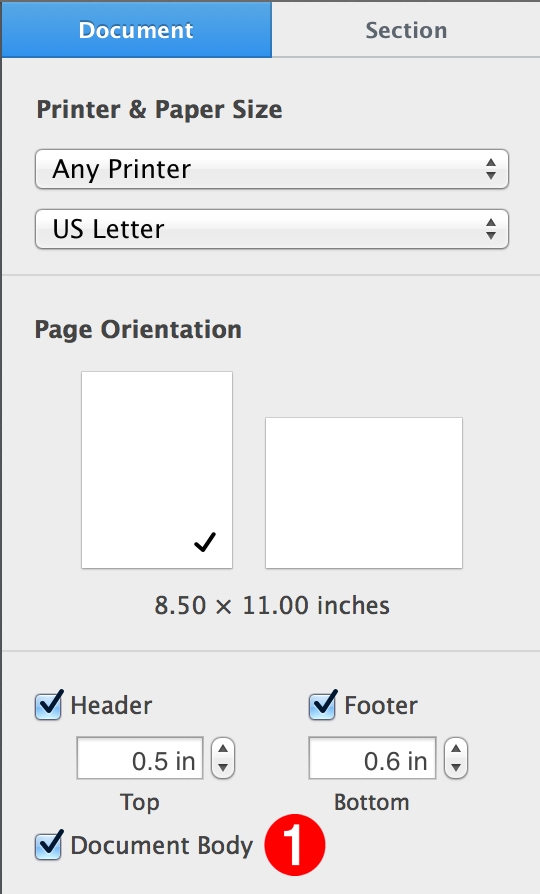 A section is a collection of contiguous pages within a document that its main text flow enabled (sometimes referred to as being in "word-processing mode"). When a document's body text is enabled, the document body checkbox, located in the Document Tab of the Document Pane in the document window, will be selected. 1
Functionally, sections act as wrappers for pages, providing a means of identifying the pages for access and manipulation. Although pages can be added to sections using the make verb, it is better to rely upon the built-in auto-flow mechanism of Pages to add pages as needed.
Here is the dictionary excerpt for the section class:
The Section Class
section n : A collection of contiguous pages comprising a section within a document.
elements
contains audio clips, charts, groups, images, iWork items, lines, movies, pages, shapes, tables, text items; contained by document.
properties
body text (text ) : The section body text.
Script Examples
DO THIS ►For use with the examples scripts, DOWNLOAD a ZIP archive of a Pages document containing the text of Alice in Wonderland, with each chapter as its own section.

(A special "thank you" to Project Gutenberg for making this content available to the public!)
Here's a simple script showing the relationship between sections and pages:
Counting Pages in Sections
01
tell

application

"Pages"
02

activate

03

tell the front

document

04

get the

count

of

sections

05

--> 12

06
07

get the

count

of

pages

of the first

section

08

--> 5

09
10

get the

count

of

pages

of every

section

11

--> 64

12

end tell
13
end tell
Because body text is a property of a document, of a section, and of a page, it can used to target specific parts of a document, such as a specific section, a specific page, and even a specific paragraph:
Formatting Body Text
01
tell

application

"Pages"
02

activate

03

-- if there is no open document then stop the script

04

if not (

exists

document

1) then error

number

-128
05
06

tell the front

document

07

-- stop if the document does not contain a default text flow

08

if

document body

is

false

then error

number

-128
09
10

-- CHANGE PROPERTIES OF THE DOCUMENT TEXT

11

tell

body text

12

set the

font

to "Verdana"
13

end tell
14
15

-- CHANGE THE PROPERTIES OF THE TEXT OF EVERY SECTION

16

tell

body text

of every

section

17

set the

size

to 12
18

set the

color

of it to {13107, 13107, 13107}
19

-- set the properties of the 1st paragraph of every section

20

tell its first

paragraph

21

set the

font

to "Times New Roman Bold"
22

set the

size

to 18
23

set its

color

to {0, 0, 0}
24

end tell
25

end tell
26
27

-- CHANGE THE PROPERTIES OF THE TEXT OF THE LAST PAGE OF a SECTION

28

set the

sectionCount

to the

count

of

sections

29

repeat with

i

from the

sectionCount

to 1 by -1
30

if

i

is

sectionCount

then
31

set the

color

of the

body text

of the last

page

to {65535, 0, 0}
32

else
33

tell

section

i

of it
34

tell

body text

of the last page
35

set the

color

of it to {65535, 0, 0}
36

end tell
37

end tell
38

end if
39

end repeat
40

end tell
41
42

-- notify the user

43

display notification

"Section formating completed."

with title

"Pages AppleScript"
44
end tell