Document from Outline
Here's an example of AppleScript's ability to transfer data between applications, to pour the source material into a newly created document, and to apply multiple formatting procedures to the text flow.
In this script example, the contents of an OmniOutliner outline document are transformed into a Pages word-processing document. The contents of each outline section become a new section in the Pages document. In addition, the script generates a table of contents for the new document.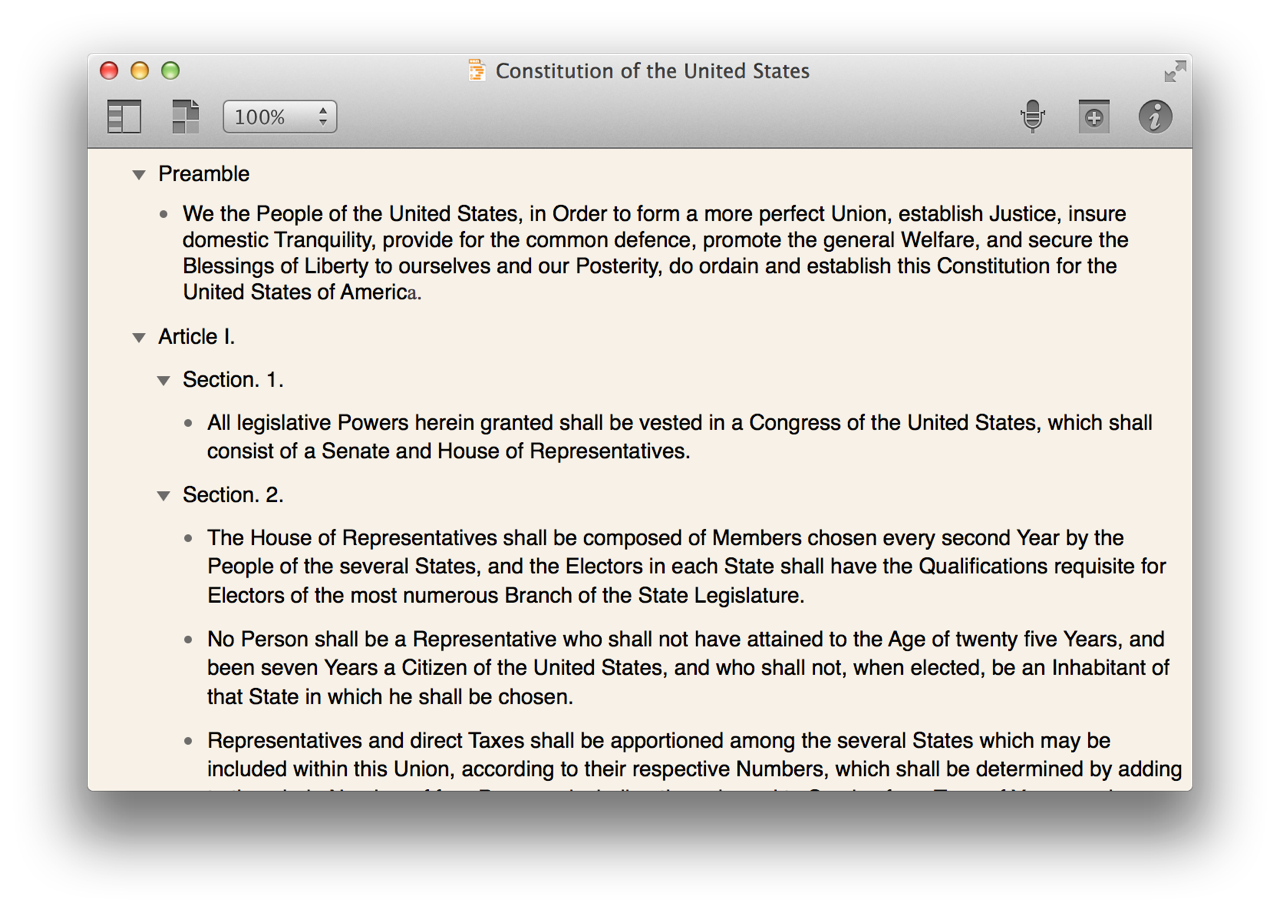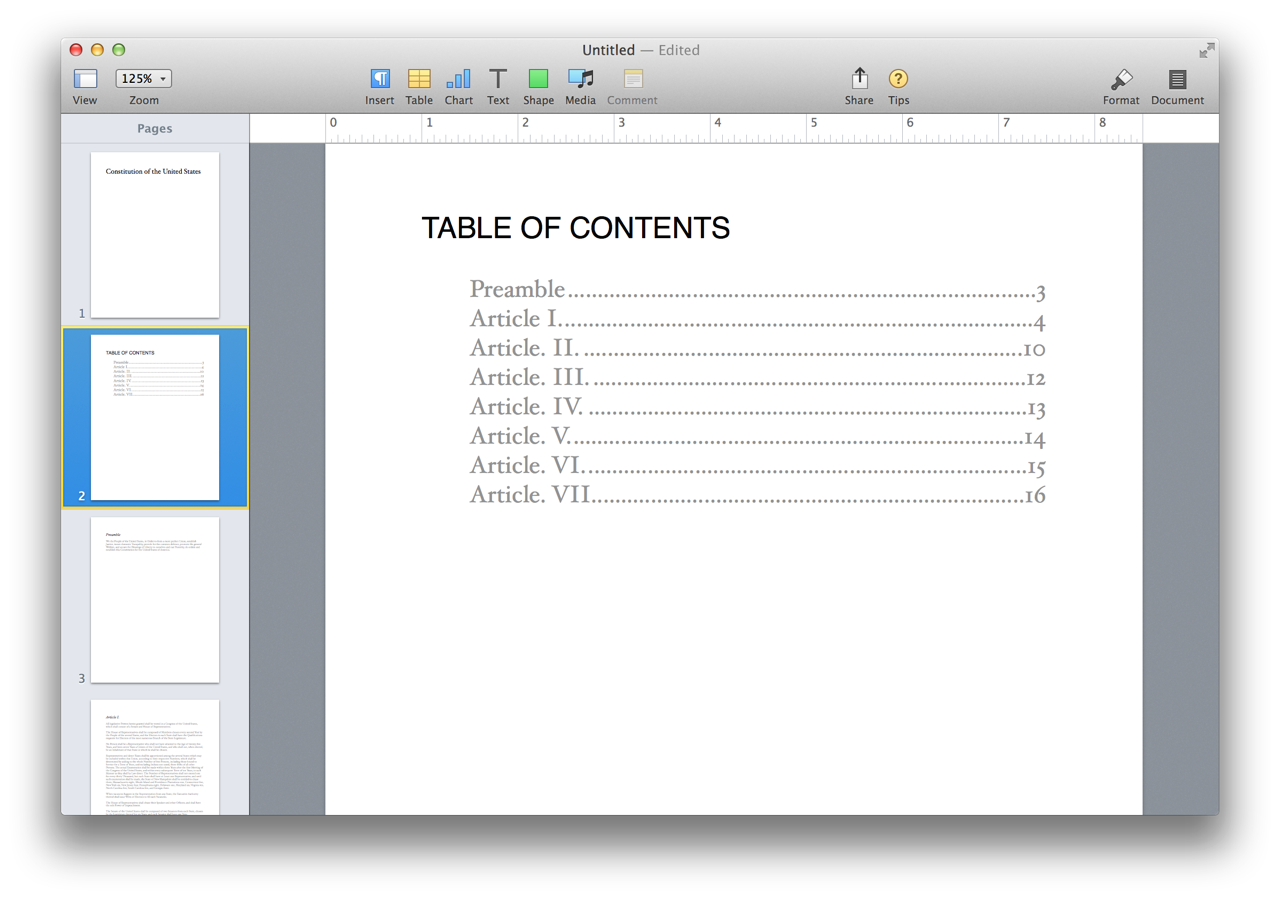 DO THIS ►DOWNLOAD the example Omni OmniOutliner document.

OmniOutliner, from the Omni Group, is available for purchase from the Mac App Store, or as a trial version from the Omni Group website.
Download the example file, open and run the script.
OmniOutliner Outline to Pages Document
01
property

defaultTemplateName

: "Blank"
02
03
property

defaultDocumentTitleTypeSize

: 32
04
property

defaultDocumentTitleTypeFace

: "Hoefler Text"
05
property

defaultDocumentTitleTypeColor

: "black"
06
07
property

defaultSectionTypeFace

: "Times New Roman Italic"
08
property

defaultSectionTypeSize

: 18
09
property

defaultSectionTypeColor

: "black"
10
11
property

defaultBodyTypeFace

: "Hoefler Text"
12
property

defaultBodyTypeSize

: 12
13
property

defaultBodyTypeColor

: "gray"
14
15
property

defaultTOCTitleTypeFace

: "Helvetica"
16
property

defaultTOCTitleTypeSize

: 22
17
property

defaultTOCTitleTypeColor

: "black"
18
19
property

defaultTOCItemTypeFace

: "Hoefler Text"
20
property

defaultTOCItemTypeSize

: 18
21
property

defaultTOCItemTypeColor

: "gray"
22
23
property

useSectionTitleForTOC

:

true

24
25
26
tell

application

"OmniOutliner"
27

activate

28

display dialog

"This script will create a new Pages word-processing document, with each section of the frontmost OmniOutliner document becoming a new section in the Pages document." &

return

&

return

& "The name of each OmniOutliner section will be used as both the title of the newly created Pages section, and as an entry in the optionally created Table of Contents."

with icon

1

buttons

{"Cancel", "Include TOC", "Build"}

default button

3
29

if

button returned

of the

result

is "Include TOC" then
30

set

createTOC

to

true

31

else
32

set

createTOC

to

false

33

end if
34

if not (

exists

document

1) then error

number

-128
35

tell the front

document

36

set

sourceDocumentTitle

to its

name

37

set the

sourceDocumentSectionNames

to the

name

of every

section

38

set the

sourceDocumentSectionCount

to ¬
39

the

count

of the

sourceDocumentSectionNames

40

end tell
41
end tell
42
43
tell

application

"Pages"
44

activate

45

set

thisDocument

to ¬
46

make

new

document

with properties

¬
47

{

document template

:

template

defaultTemplateName

}
48
49

tell

thisDocument

50
51

if

document body

is

false

then
52

display alert

"INCOMPATIBLE TEMPLATE" message "The template of this document does not have an active document body text flow."
53

error

number

-128
54

end if
55
56

-- TITLE PAGE

57

tell

page

1
58

set

body text

to

sourceDocumentTitle

59

tell

body text

60

set

font

to

defaultDocumentTitleTypeFace

61

set

size

to

defaultDocumentTitleTypeSize

62

set the

color

of it to

defaultDocumentTitleTypeColor

63

end tell
64

end tell
65
66

-- TOC PAGE OPTION

67

if

createTOC

is

true

then
68

make

new

section

69

set

bufferIndex

to 2
70

else
71

set

bufferIndex

to 1
72

end if
73
74

-- MAKE THE SECTIONS

75

repeat with

i

from 1 to (

sourceDocumentSectionCount

)
76

make

new

section

77

end repeat
78
79

-- POPULATE THE CONTENT OF THE SECTIONS

80

repeat with

i

from 1 to

sourceDocumentSectionCount

81

tell

application

"OmniOutliner"
82

tell the front

document

83

tell

section

i

84

set

thisSourceDocumentSectionsText

to

name

of it
85

set the

leavesNames

to the

name

of

leaves

86

set

thisSourceDocumentSectionsText

to ¬
87

thisSourceDocumentSectionsText

&

return

& ¬
88

return

& my

textItems

ToText(

leavesNames

)
89

end tell
90

end tell
91

end tell
92

set

pagesSectionIndex

to (

i

+

bufferIndex

)
93

set

body text

of

section

pagesSectionIndex

to

thisSourceDocumentSectionsText

94

tell

section

pagesSectionIndex

95

tell

body text

96

repeat with

i

from 1 to the

count

of

paragraphs

97

if

i

is 1 then
98

set

color

of

paragraph

i

to

defaultSectionTypeColor

99

tell

paragraph

i

100

set

font

to

defaultSectionTypeFace

101

set

size

to

defaultSectionTypeSize

102

end tell
103

else
104

set

color

of

paragraph

i

to

defaultBodyTypeColor

105

tell

paragraph

i

106

set

font

to

defaultBodyTypeFace

107

set

size

to

defaultBodyTypeSize

108

end tell
109

end if
110

end repeat
111

end tell
112

end tell
113

end repeat
114
115

-- CREATE THE TOC

116

if

createTOC

is

true

then
117

set

x

to 2

-- title and TOC

118

set

sectionStartIndexes

to {}
119

set

sectionTitleCounter

to 1
120

set

sectionDisplayNumber

to 1
121

repeat with

i

from 2 to the

count

of

sections

122

set the sectionStart

pageIndex

to

x

123

set the end of the

sectionStartIndexes

to sectionStart

pageIndex

124

if

i

is 2 then
125

set

TOCText

to "TABLE OF CONTENTS" & return
126

else
127

if

useSectionTitleForTOC

is

true

then
128

set

TOCText

to

TOCText

& return & tab & ¬
129

(

item

sectionTitleCounter

of

sourceDocumentSectionNames

) & ¬
130

tab & sectionStart

pageIndex

131

set

sectionTitleCounter

to

sectionTitleCounter

+ 1
132

else
133

set

TOCText

to

TOCText

&

return

&

tab

& ¬
134

(item

sectionTitleCounter

of

sourceDocumentSectionNames

) & ¬
135

tab & sectionStart

pageIndex

136

set

sectionTitleCounter

to

sectionTitleCounter

+ 1
137

end if
138

end if
139

set

x

to

x

+ (

count

of

pages

of

section

i

)
140

end repeat
141

set

body text

of

section

2 to

TOCText

142

-- FROMAT THE TOC

143

tell

body text

of

section

2
144

tell

paragraph

1
145

set

font

to

defaultTOCTitleTypeFace

146

set

size

to

defaultTOCTitleTypeSize

147

set

color

of it to

defaultTOCTitleTypeColor

148

end tell
149

tell

paragraphs

2 thru -1
150

set

font

to

defaultTOCItemTypeFace

151

set

size

to

defaultTOCItemTypeSize

152

set

color

of it to

defaultTOCItemTypeColor

153

end tell
154

end tell
155

end if
156

end tell
157
end tell
158
my

goToPage

(1)
159
my display

thisNotification

("OmniOutliner to Pages", "Document created.", "")
160
161
on

textItemsToText

(

textItems

)
162

set

AppleScript's text item delimiters

to (

return

&

return

)

-- double spaced

163

set the

textBlock

to

textItems

as

string

164

set

AppleScript's text item delimiters

to ""
165

return

textBlock

166
end

textItemsToText

167
168
on display

thisNotification

(

thisTitle

,

thisNotification

,

thisSubtitle

)
169

tell

current application

170

display notification

thisNotification

with title

thisTitle

subtitle

thisSubtitle

171

end tell
172
end display

thisNotification

173
174
on

goToPage

(

pageIndex

)
175

tell

application

"Pages"
176

activate

177

tell the front

document

178

tell

page

pageIndex

179

set

thisShape

to ¬
180

make

new

shape

with properties

¬
181

{

height

:12,

width

:12,

position

:{0, 0}}
182

delete

thisShape

183

end tell
184

end tell
185

end tell
186
end

goToPage