Images from URLs
This short tutorial demonstrates a useful technique for creating a presentation that incorporates images from online sources. Using this technique, linked images in a presentation can be updated periodically throughout the presentation development process.
NOTE: The online images used with the technique demonstrated below, can be from your company's website, or servers, or from a website that provides royalty-free images to the public, such as HubbleSite.org. Be sure that you have checked the assigned rights of the images you use in your presentations.
Tagged Placeholders
The following describes how image placeholders in slides can be tagged with URLs to online source images.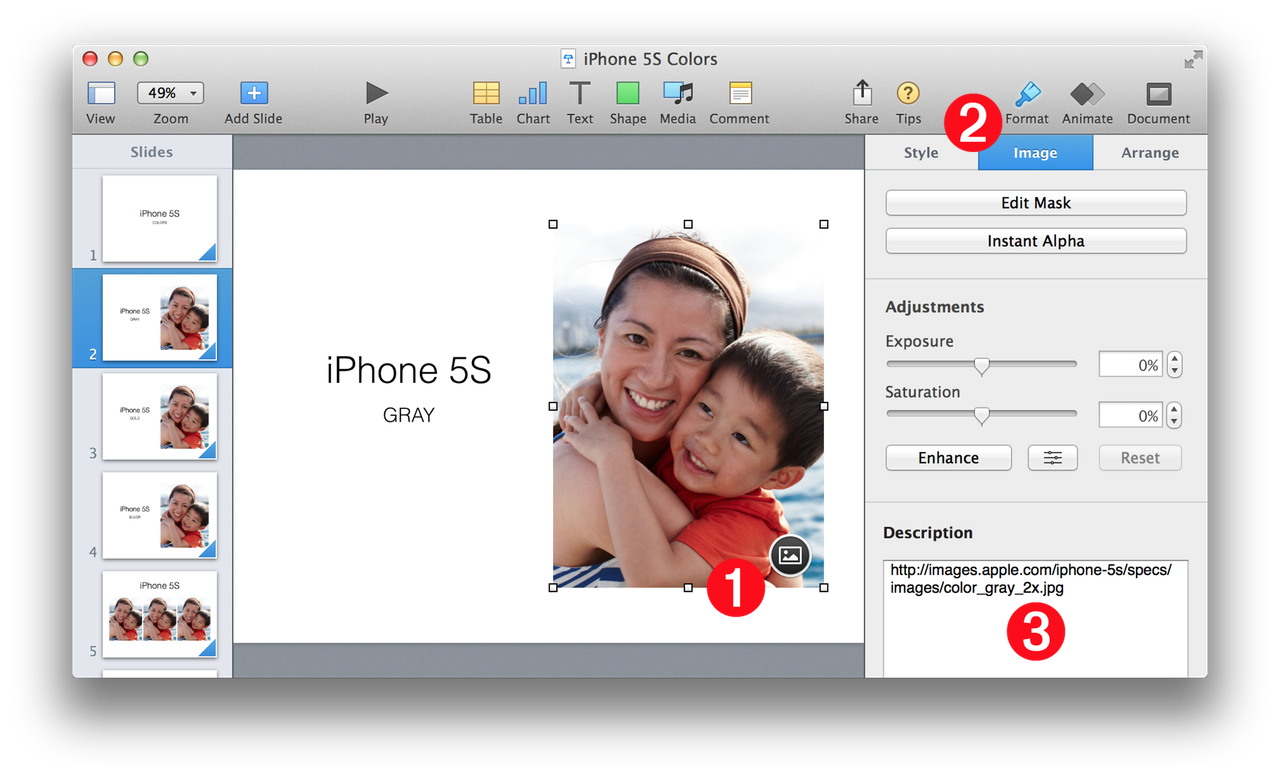 The Example Tutorial
DO THIS ►DOWNLOAD and open the example Keynote presentation (⬆ see above ) that has been pre-tagged with image URLs.
DO THIS ►With an active internet connection, open the example script (⬇ see below ) in the AppleScript Editor application and run it.
The example script provided below is designed to examine each slide of a presentation for images whose description is a URL. If a URL is found by the script, it will attempt to download the online image to disk and then replace the placeholder image with the downloaded file.
NOTE: If the script property replaceDescriptionWithURL is set to true, then the script can be run over and over to get the latest version of the image from its URL.
Replace Placeholders with Images from URLs
01

-- The value of this property deternines whether the description for the new image should be its source URL or embedded description metadata (if any)

02
property

replaceDescriptionWithURL

:

true

03
04
tell

application

"Keynote"
05

activate

06

if not (

exists

front

document

) then error

number

-128
07

tell the front document
08

-- check each slide for images whose description is a URL

09

repeat with

i

from 1 to the

count

of

slides

10

tell

slide

i

11

repeat with

q

from 1 to the

count

of

images

12

tell

image

q

13

set

currentDescription

to the

description

14

end tell
15

if

currentDescription

contains "://" then
16

set

newImageFile

to my

fileFromURL

(

currentDescription

)
17

if

newImageFile

is not

false

then
18

set

file name

of

image

q

to

newImageFile

19

if

replaceDescriptionWithURL

is

true

then
20

set description of

image

q

to

currentDescription

21

else

-- attempt to retrieve embedded description

22

set

embeddedDescription

to my

extractkMDItemDescription

(

newImageFile

)
23

set description of

image

q

to

embeddedDescription

24

end if
25

end if
26

end if
27

end repeat
28

end tell
29

end repeat
30

end tell
31

start

the front

document

from the first

slide

of the front

document

32
end tell
33
34
on

fileFromURL

(

currentDescription

)
35

try
36

-- get the name of the file from the URL

37

set the fileName to

do shell script

"basename " &

currentDescription

38

-- derive a path to the temp folder into which the image will be downloaded

39

set the

temporaryItemsFolder

to ¬
40

the

POSIX path

of (

path to

the

temporary items folder

)
41

set the

targetFile

to (

temporaryItemsFolder

&

fileName

)
42

-- download the image

43

do shell script

"curl" & space &

currentDescription

& space & "-o" & ¬
44

space & quoted form of

targetFile

45

-- return an HFS alias file reference to the image file

46

return

targetFile

as

POSIX file

as

alias

47

on error
48

return

false

49

end try
50
end

fileFromURL

51
52
on

extractkMDItemDescription

(

thisImageFile

)
53

-- uses Spotlight to retrieve embedded description metadata (if any)

54

try
55

set

thisImagePOSIXpath

to the

POSIX path

of

thisImageFile

56

set the

embeddedDescription

to ¬
57

do shell script

"mdls -name kMDItemDescription " & ¬
58

(

quoted form

of

thisImagePOSIXPath

)
59

if

embeddedDescription

is "kMDItemDescription = (null)" then
60

set

embeddedDescription

to ""
61

else
62

set the

embeddedDescription

to ¬
63

(

text

from ((

length

of "kMDItemDescription = \"") + 1) to ¬
64

-2 of

embeddedDescription

)
65

end if
66

return

embeddedDescription

67

on error
68

return ""
69

end try
70
end

extractkMDItemDescription