New Presentation from Outline
Part of the fundamental magic of Automation, is its inherent ability to express the data contained in one application, in a different way in another application. What would normally be an intricate laborious process when done by hand, is reduced to a quick effortless operation through AppleScript's ability to control and link the targeted applications.
The following example script demonstrates these concepts perfectly as it builds a Keynote document from an OmniOutliner outline document.
NOTE: OmniOutliner is productivity software from the Omni Group, and is available for purchase from the Mac App Store, or as a trial version from the Omni Group website.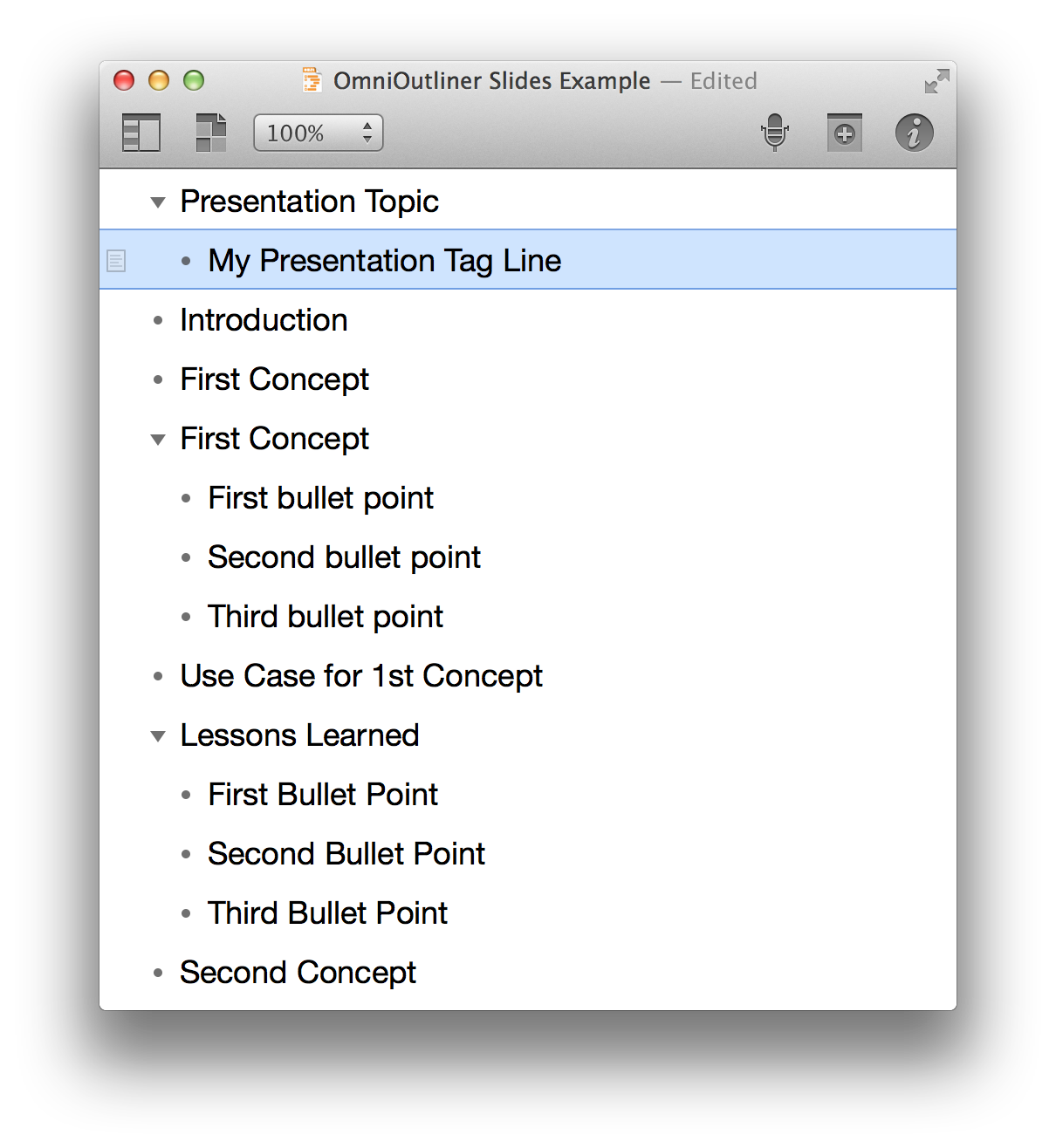 To try the demo, follow these steps:
DO THIS ►DOWNLOAD and open the OmniOutliner example document.
DO THIS ►If it isn't already activated, turn on the system-wide Script Menu and create a OmniOutliner scripts folder (details here)
DO THIS ►Open the example script (⬇ see below ) in the AppleScript Editor, and save the script into the OmniOutliner scripts folder.
DO THIS ►With the example document open in OmniOutliner, select the saved script from the Script Menu.
The script will create a new Keynote document and add a slide, with transitions, for each of the outline sections, filling in titles and body content as indicated. Once the document is created, the presentation will be played from the beginning, and auto-advanced throughout.
IMPORTANT: For non-English language users. In order for the script to work as expected, you will need to replace the master slide names in the script with versions using the current language of your computer. For example:
| | | |
| --- | --- | --- |
| English-German | "Title - Center" | "Titel - Mitte" |
| English-German | "Title & Subtitle" | "Titel & Untertitel" |
| English-German | "Title & Bullets" | "Titel & Aufzählung" |
| English-Norwegian | "Title - Center" | "Tittel – sentrert" |
| English-Norwegian | "Title & Subtitle" | "Tittel og undertittel" |
| English-Norwegian | "Title & Bullets" | "Tittel og punkttegn" |
| English-Japanese | "Title - Center" | "タイトル(中央)" |
| English-Japanese | "Title & Subtitle" | "タイトル & サブタイトル" |
| English-Japanese | "Title & Bullets" | "タイトル & 箇条書き" |
If you are not sure what the master slide titles are for the current document, then run this script:
tell application "Keynote" to get the name of every master slide of the front document
New Presentation from Outline
01
property

defaultTransitionDuration

: 0.5
02
property

defaultTransitionDelay

: 2.0
03
property

defaultAutomaticTransition

: true
04
05
tell

application

"OmniOutliner"
06

activate

07
08

set

dialogParagraphBreak

to

return

&

return

09

display dialog

"This script will create

a

new Keynote document based on the content of the frontmost OmniOutliner document." &

dialogParagraphBreak

& "Each section head of the OmniOutliner document will be used as the title for

a

new slide in the Keynote document." &

dialogParagraphBreak

& "If

a

section contains no children, the "Title - Center" master will be used." &

dialogParagraphBreak

& "If

a

section contains one child, the "Title & Subtitle" master will be used, with the name of the child becoming the subtitle." &

dialogParagraphBreak

& "If

a

section contains more than one child, the "Title & Bullets" master will be used, and the section's children will become the bullet points for the created slide." &

dialogParagraphBreak

& "The new slideshow will automatically play from the beginning and auto-advance."

with icon

1
10
11

if not (

exists

document

1) then error

number

-128
12
13

tell front

document

14

set the

slideCount

to the

count

of

sections

15

end tell
16
end tell
17
18
tell

application

"Keynote"
19

activate

20
21

set the

themeNames

to the

name

of every

theme

22
23

set the

chosenTheme

to ¬
24

(

choose from list

themeNames

with prompt

¬
25

"Choose a theme to use:"

default items

(

item

1 of

themeNames

))
26
27

if

chosenTheme

is

false

then error

number

-128
28
29

set

dialogMessage

to "Standard Size or Widescreen?"
30

display dialog

dialogMessage

buttons

{"Cancel", "Standard", "Widescreen"}

default button

3
31

if the

button returned

of the

result

is "Standard" then
32

set

targetWidth

to 1024

-- 1440 <-- higher resolution

33

set

targetHeight

to 768

-- 1080 <-- higher resolution

34

else
35

set

targetWidth

to 1920
36

set

targetHeight

to 1080
37

end if
38
39

set

thisDocument

to ¬
40

make

new

document

with properties

¬
41

{

document theme

:

theme

(

chosenTheme

as

string

),

width

:

targetWidth

,

height

:

targetHeight

}
42
end tell
43
44
tell

application

"OmniOutliner"
45

tell front

document

46

repeat with

i

from 1 to the

count

of

sections

47

tell

section

i

48

set

thisSectionText

to

name

of it
49

repeat with

q

from 1 to the

count

of

children

50

tell

child

q

51

set

thisSectionText

to

thisSectionText

&

return

&

name

of it
52

set the

childCount

to the

count

of

children

53

if the

childCount

is not 0 then
54

-- 2nd-level bullets

55

repeat with

z

from 1 to the

childCount

56

set

thisSectionText

to

thisSectionText

&

return

& tab &

name

of

child

z

57

end repeat
58

end if
59

end tell
60

end repeat
61

end tell
62

set the

paragraphCount

to the

count

of

paragraphs

of

thisSectionText

63

if

paragraphCount

is 1 then
64

set the

masterSlideName

to "Title - Center"
65

set

thisSlideTitle

to

thisSectionText

66

set

thisSlideBody

to ""
67

else if

paragraphCount

is 2 then
68

set the

masterSlideName

to "Title & Subtitle"
69

set

thisSlideTitle

to the first

paragraph

of

thisSectionText

70

set

thisSlideBody

to the second

paragraph

of

thisSectionText

71

else if

paragraphCount

is greater than or equal to 3 then
72

set the

masterSlideName

to "Title & Bullets"
73

set

thisSlideTitle

to the first

paragraph

of

thisSectionText

74

set

thisSlideBody

Elements to

paragraphs

2 thru -1 of

thisSectionText

75

set

AppleScript's text item delimiters

to

return

76

set

thisSlideBody

to

thisSlideBody

Elements as

string

77

set

AppleScript's text item delimiters

to ""
78

end if
79

my

createSlide

(

masterSlideName

,

thisSlideTitle

,

thisSlideBody

)
80

end repeat
81

end tell
82
end tell
83
84
tell

application

"Keynote"
85

activate

86
87

tell

thisDocument

to

delete

slide

1
88
89

start

thisDocument

from

first

slide

of

thisDocument

90
end tell
91
92
on

createSlide

(

masterSlideName

,

thisSlideTitle

,

thisSlideBody

)
93

try
94

tell

application

"Keynote"
95

tell front

document

96

set thisSlide to

make

new

slide

with properties

{

base slide

:

master slide

masterSlideName

}
97

tell

thisSlide

98

set the

transition properties

to ¬
99

{

transition effect

:

dissolve

,

transition duration

:

defaultTransitionDuration

,

transition delay

:

defaultTransitionDelay

,

automatic transition

:

defaultAutomaticTransition

}
100

if

title showing

is

true

then
101

set the

object text

of the

default title item

to

thisSlideTitle

102

end if
103

if

body showing

is

true

then
104

set the

object text

of the

default body item

to

thisSlideBody

105

end if
106

end tell
107

end tell
108

end tell
109

return

true

110

on error
111

return

false

112

end try
113
end

createSlide