Build Numbers Table from SQLite Database
After reviewing the previous page about creating an SQLite database from a Numbers table, the next topic in learning how to use SQLite with Numbers, is to learn how to create a Numbers table using the content of an SQLite database. The script provided on this page outlines the basic technique for doing so.
DOWNLOAD a ZIP archive of the example SQLite database and related files. Unpack the archive and place the SQLite database files into the Databases folder in your Documents folder. NOTE: requires OS X v10.10 (Yosemite)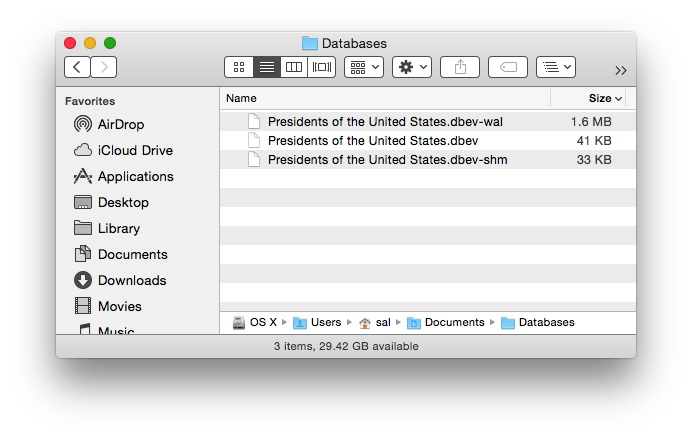 Open the example script in the Script Editor application. Two versions are provided: the first is for OS X v10.10 (Yosemite) and higher, and the second is for OS X v10.9 (Mavericks):
NOTE: When prompted by the script, choose the main database file, which is the one with the file extension of ".dbev".
Numbers Table from SQLite Database
01
tell

application

"Numbers"
02

activate

03

set

targetDatabaseFile

to ¬
04

(

POSIX path

of (

choose file

with prompt

¬
05

"Choose SQLite database file (.dbev):"

default location

(

path to

documents folder

)))
06
end tell
07
08
tell

application

"Database Events"
09

tell

database

targetDatabaseFile

10

set the

recordCount

to the

count

of

records

11

-- example database uses first field for the record name, so field names or row headers are the others

12

set

fieldNames

to the

name

of

fields

2 thru -1 of

record

1
13

end tell
14
end tell
15
16
tell

application

"Numbers"
17

set

thisDocument

to

make

new

document

with properties

¬
18

{

document template

:

template

"Blank"}
19

tell

thisDocument

20

delete every

table

of the

active sheet

21

tell

active sheet

22

set

thisTable

to

make

new

table

with properties

¬
23

{

column count

:(

count

of

fieldNames

) ¬
24

,

row count

:(

recordCount

+ 1) ¬
25

,

header row count

:1 ¬
26

,

header column count

:0}
27

end tell
28

tell

thisTable

29

set

alignment

of every

column

to

center

30

repeat with

i

from 1 to the

count

of

fieldNames

31

set the

value

of

cell

i

of

row

1 to (

item

i

of

fieldNames

)
32

end repeat
33

end tell
34

end tell
35
end tell
36
37
tell

application

"Database Events"
38

tell

database

targetDatabaseFile

39

repeat with

i

from 1 to the

count

of

records

40

tell

record

i

41

set

thisRecordData

to (the

value

of

fields

2 thru -1)
42

tell

application

"Numbers"
43

tell

thisTable

44

repeat with

q

from 1 to the

count

of

thisRecordData

45

set the

value

of

cell

q

of

row

(

i

+ 1) to ¬
46

(

item

q

of

thisRecordData

)
47

end repeat
48

end tell
49

end tell
50

end tell
51

end repeat
52

end tell
53
end tell
When run, the script will parse the database and create a new Numbers document containing a single table comprised of rows of data extracted from the records of the chosen database (⬇ see below )