Translation Helper Scripts
Large international corporations often create sales and marketing materials that are replicated by their marketing and communications teams into publications designed for use with various languages.
But for smaller organizations or individuals, translating materials can be a challenging process. This tutorial features two Applescript scripts that will make is easier for you to translate a presentation's presenter notes using the online Google Translate service.
NOTE: These scripts are compelling examples of how AppleScript can dynamically create and interact with HTML content via the Safari web-browser application.
DOWNLOAD an archive containing three scripts and the example presentation file. In the unpacked archive folder, launch the "Automation Tools Installer" applet to install the scripts.
Setup Presenter Notes for Translation
01
property

sourceLanguageID

: "en"

-- (en=English, fr=French, es=Spanish, de=German, it=Italian, sv=Swedish, nl=Dutch)

02
property

destinationLanguageID

: "es"
03
04
property

bodyStyleCSS

: "margin-left:36px;-webkit-user-select:none;width:50%;background-color:#555;color:white;"
05
06
property

slideIdentiferOpeningTag

: "<h4 style=\"margin-bottom:4px;margin:0;\">"
07
property

slideIdentiferClosingTag

: "</h4>"
08
09
property

noteOpeningTag

: "<textarea rows=\"5\" id=\"txtareaXXXX\" onClick=\"SelectAll('txtareaXXXX');\">"
10
property

noteClosingTag

: "</textarea>"
11
12
property

blankLineHTML

: "<hr>"
13
14
property

introductionOpeningTag

: "<h3 style=\"margin-bottom:0;font-style:italic;\">"
15
property

introductionClosingTag

: "</h3>"
16
17
property

documentTitleHTMLOpeningTag

: "<h2 style=\"margin-left:24px;margin-bottom:12px;margin-top:8px;\">"
18
property

documentTitleHTMLClosingTag

: "</h2>"
19
20
property

instructionsOpeningTag

: "<p style=\"font-size:small;font-style:italic;\">"
21
property

instructionsClosingTag

: "</p>"
22
23
tell

application

"Keynote"
24

activate

25

if not (

exists

document

1) then error

number

-128
26

tell the front

document

27

set

thisDocumentName

to the

name

of it
28

set the

HTMLBody

to ¬
29

introductionOpeningTag

& "Presenter notes for:" & ¬
30

introductionClosingTag

&

linefeed

& ¬
31

documentTitleHTMLOpeningTag

& """ &

thisDocumentName

& ¬
32

""" &

documentTitleHTMLClosingTag

&

linefeed

& ¬
33

instructionsOpeningTag

& "(Click the text of a presenter note to select it)" & ¬
34

instructionsClosingTag

35

repeat with

i

from 1 to the

count

of slides
36

tell

slide

i

37

if skipped is

false

then
38

set

thisSlideNotes

to its

presenter notes

39

set

thisSlideNotesHTML

to

thisSlideNotes

40

set this

noteOpeningTag

to my

replaceText

(

noteOpeningTag

, "XXXX", (

i

as

string

))
41

set the

HTMLBody

to ¬
42

HTMLBody

&

linefeed

& ¬
43

blankLineHTML

&

linefeed

& ¬
44

slideIdentiferOpeningTag

& "Slide " & (

i

as

string

) & ¬
45

slideIdentiferClosingTag

&

linefeed

& ¬
46

this

noteOpeningTag

&

thisSlideNotesHTML

&

noteClosingTag

47

end if
48

end tell
49

end repeat
50

end tell
51
end tell
52
53

-- MERGE HTML CONTENT

54
set

HTMLOutline

to "<!DOCTYPE html>
55
<html lang=\"en\">
56
<head>
57

<meta charset=\"utf-8\" />
58

<meta name=\"description\" content=\"Page Generated for Translation\">
59

<title>" &

thisDocumentName

& "</title>
60

<script type=\"text/javascript\">
61

function SelectAll(id)
62

{
63

document.getElementById(id).focus();
64

document.getElementById(id).select();
65

}
66

</script>
67

<style>
68

textarea {width:96%;}
69

</style>
70
</head>
71
<body style=\"" &

bodyStyleCSS

& "\">" &

linefeed

&

HTMLBody

& ¬
72

linefeed & "</body>" &

linefeed

& "</html>"
73
74

-- CREATE THE HTML FILE

75
set

fileName

to (

do shell script

"uuidgen") & ".html"
76
set

temporaryFolder

to (

path to

temporary items folder

from

user domain

)
77
set

targetFile

HFSPath to (

temporaryFolder

as

string

) &

fileName

78
if my

writeToFile

(

HTMLOutline

,

targetFile

HFSPath,

false

) is

true

then
79

tell

application

"System Events"
80

set

thisURL

to the

URL

of

disk item

targetFile

HFSPath
81

end tell
82
else
83

beep

84

error

number

-128
85
end if
86
87

-- OPEN HTML FILE IN NEW 2-TAB WINDOW WITH GOOGLE TRANSLATE <https://translate.google.com/#en/es/>

88
set

GoogleTranslateURL

to ¬
89

"https://translate.google.com/#" &

sourceLanguageID

& ¬
90

"/" &

destinationLanguageID

& "/"
91
tell

application

"Safari"
92

activate

93

set

thisWindow

to

make

new

document

with properties

{

URL

:

thisURL

}
94

tell window 1
95

make

new

tab

with properties

{

URL

:

GoogleTranslateURL

}
96

end tell
97
end tell
98
99
on

writeToFile

(

thisData

,

targetFile

,

appendData

)
100

try
101

set the

targetFile

to the

targetFile

as

string

102

set the

openTargetFile

to ¬
103

open for access

file

targetFile

with

write permission

104

if

appendData

is

false

then set eof of the open

targetFile

to 0
105

write

thisData

to the

openTargetFile

starting at

eof

as

«class utf8»

106

close access

the

openTargetFile

107

return

true

108

on error
109

try
110

close access

file

targetFile

111

end try
112

return

false

113

end try
114

end

writeToFile

115

116

on

replaceText

(

sourceText

,

searchString

,

replacementString

)
117

set

AppleScript's text item delimiters

to the

searchString

118

set the

itemList

to every

text item

of

sourceText

119

set

AppleScript's text item delimiters

to the

replacementString

120

set

sourceText

to the

itemList

as

string

121

set

AppleScript's text item delimiters

to ""
122

return

sourceText

123

end

replaceText
Running the Setup Script
With the installation of the scripts completed, and the presentation opened in Keynote, you are now ready to begin the process of translating the document's presenter notes.
DO THIS ►Select the installed script "Setup Presenter Notes for Translation" from the system-wide Script Menu. A confirmation dialog will appear: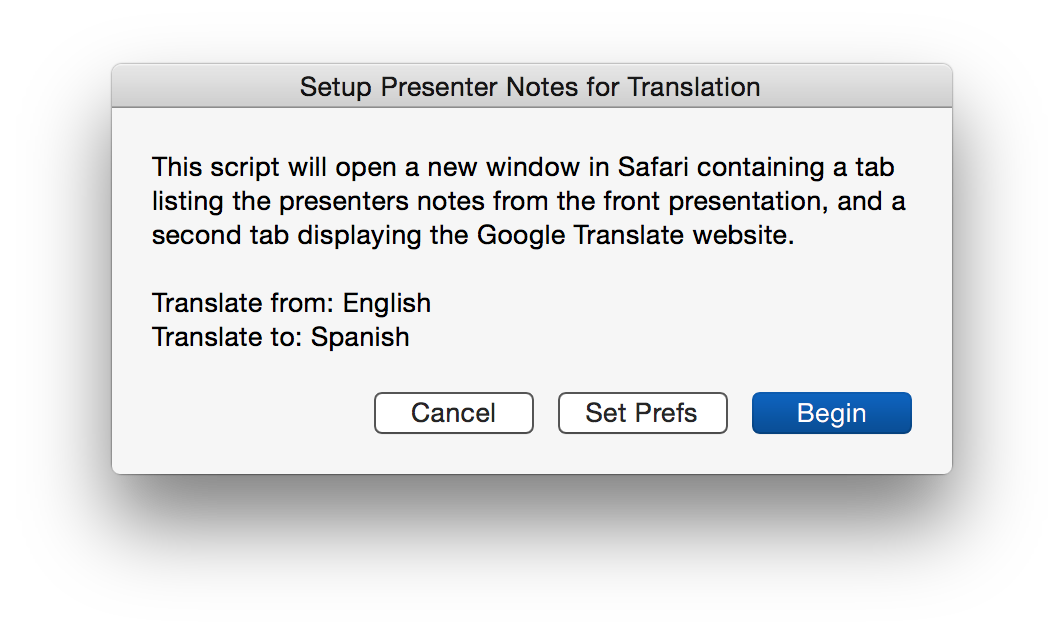 When run, the script will open a new window in Safari containing two tabs: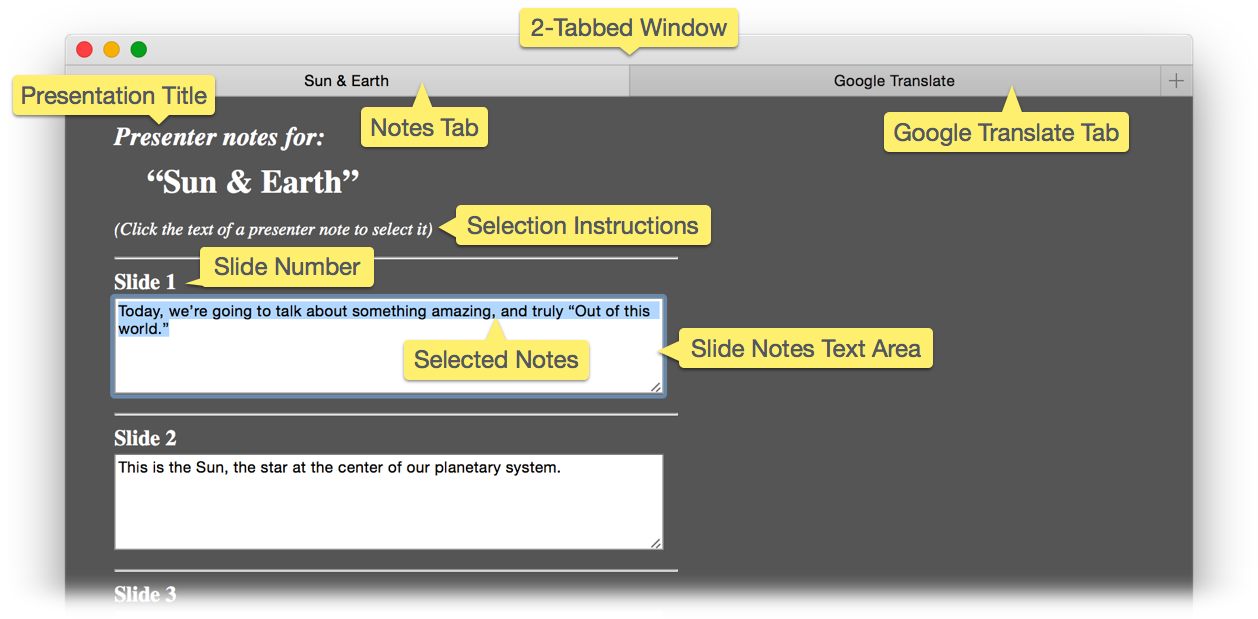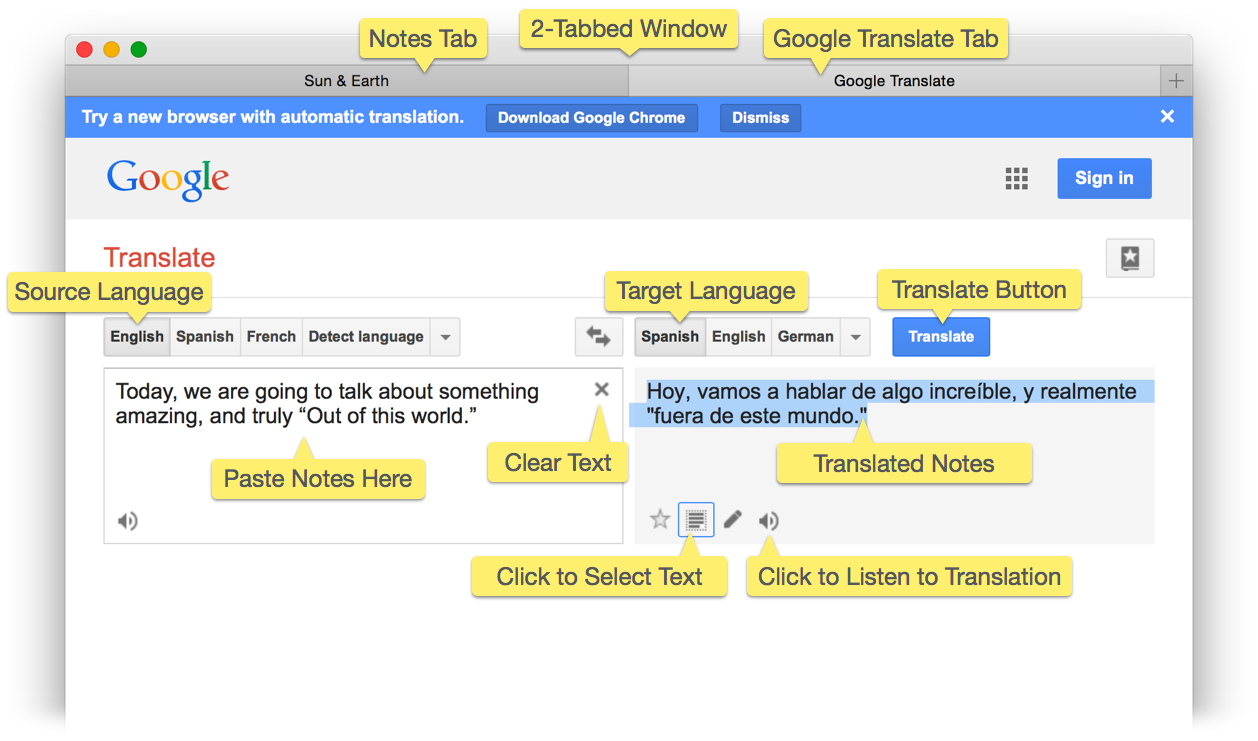 Translating the Slide Notes
Translating the slide presenter notes involves following these simple steps for each slide note:
Select & Copy the Slide's Notes • Select the text of a slide note by clicking in the text area of the note. The text will auto-select. Copy the selected text to the clipboard (⌘C).
Paste & Translate • In the browser window select the Google Translate tab, and paste the copied text into the text input field on the left. Click the Translate button over the right text field to translate the text.
Select, Copy, & Replace • Under the text field containing the translation, click the button for selecting the text. Copy the selected text to the clipboard (⌘C). Click the inactive browser window tab to reveal the slide notes, and replace the selected text of the source slide note with the translation text that's currently on the clipboard (⌘V).
Repeat these steps for each slide note.
Replacing Existing Presenter Notes
Once the slide notes in the browser window have been replaced with their translations, they can be used to replace the presenter notes in the open Keynote presentation file. This process can be completed quickly using the script provided here.
DO THIS ►Select the installed script "Replace Notes with Localized Notes" from the system-wide Script Menu. A confirmation dialog will appear: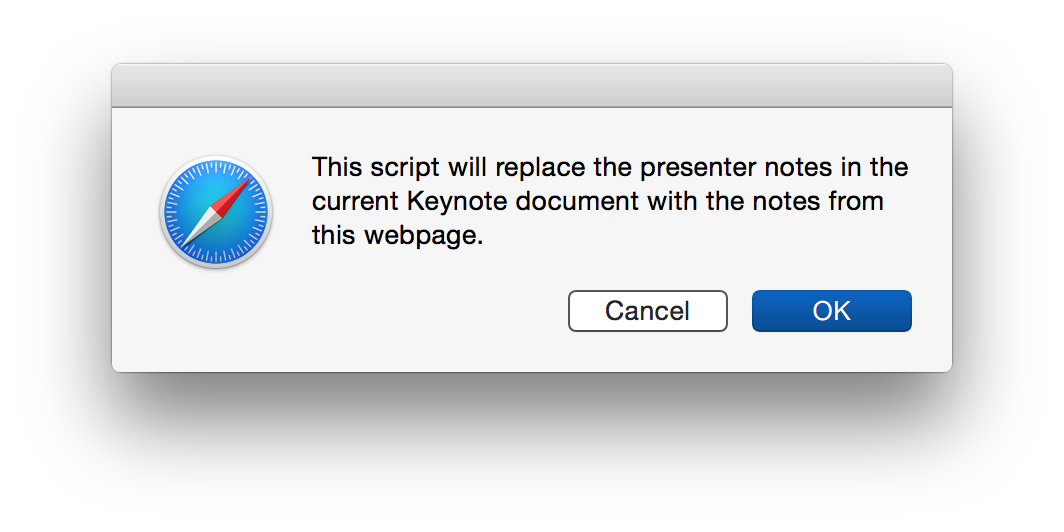 Replace Notes with Localized Notes
01
tell

application

"Keynote"
02

set

KeynoteStatus

to (

exists

document

1)
03
end tell
04
05
tell

application

"Safari"
06

activate

07

if

KeynoteStatus

is

false

then "There is no document in Keynote."
08

if not (

exists

document

1) then error "There is no document open in Safari."
09

display dialog

"This script will replace the presenter notes in the current Keynote document with the notes from this webpage."

with icon

1
10

try
11

set

pageSource

to

source

of

current tab

of

window

1
12

if

pageSource

contains "Page Generated for Translation" then
13

set

elementCount

to ¬
14

(do JavaScript "document.getElementsByTagName('textarea').length;" in

current tab

of

window

1) as

integer

15

set

translatedNotes

to {}
16

repeat with

i

from 1 to

elementCount

17

set

thisNote

to ¬
18

(do JavaScript "document.getElementById('txtarea" & (

i

as

string

) & "').value;" in

current tab

of

window

1)
19

set the end of

translatedNotes

to

thisNote

20

end repeat
21

else
22

display alert

"INCORRECT PAGE"

message

"The current page was not generated by the translation script."
23

error

number

-128
24

end if
25

display dialog

"Notes extraction complete. Click "Continue" to switch to Keynote and replace the notes in the current document." buttons {"Cancel", "Continue"}

default button

2

with icon

1
26

on error

errorMessage

number

errorNumber

27

if

errorNumber

is not -128 then
28

display alert

"EXTRACTION ERROR"

message

errorMessage

29

end if
30

error

number

-128
31

end try
32
end tell
33
34
tell

application

"Keynote"
35

activate

36

try
37

tell

document

1
38

repeat with

i

from 1 to the

count

of

translatedNotes

39

set

targetSlide

to (the first

slide

whose

slide number

is i)
40

tell

targetSlide

41

set

presenter notes

to (

item

i

of

translatedNotes

)
42

end tell
43

end repeat
44

end tell
45

on error

errorMessage

number

errorNumber

46

if

errorNumber

is not -128 then
47

display alert

"ERROR"

message

errorMessage

48

end if
49

error

number

-128
50

end try
51
end tell
Once the script has finished, the presenter notes in the frontmost Keynote document will be replaced with the translations entered in the Safari browser tab.
TIP: You can use the Simple Play & Say script (included with the installer) to have your slideshow spoken and presented to you using the default system voice. Upgrade your system voices to the free high-quality voices in multiple languages available from the Speech & Dictation system preference pane.